Multicats International is born in a context of increasing interest for pleasure crafts.
Over the last years, and after the previous decade crisis the demand for yachts, especially multihulls, has grown. Potential buyers are facing a shortage in supply and an increase in prices, the ones with mature projects are turning to used boats as they don't want to wait too long for the new multihull of their dreams, that they might not be able to afford.
That is precisely where Multicats International is able to offer a personalized solution.
Rosanne Tricot
Rosanne began her carrier in the industry of tourism and has a good knowledge of foreign languages. She boarded for a transat and several transmeds, before taking charge of the administration of the Moorings bases in Greece, Croatia, and West Indies, and then the management of a crewed yachts fleet.
After sharpening her commercial and back-office experience in the real estate business, she contributed to the creation of Multicats International which she now manages.
Alexandre Tricot
After his training with Catana and Piriou shipyards, Alexandre graduated with a degree in Naval Architecture. He moved to New Zealand and Australia to reinforce his nautical experience and created his own yacht business.
As an associate of Multicats International, he helps to manage the business from Hong Kong.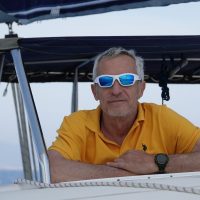 Cyrille Tricot
Cyrille started as a free-lance professional skipper before taking the position of base manager and director of operations with The Moorings. He acquired commercial and entrepreneurship knowledge through experience in the real estate business, and later took the position of sales director for Catana and then Privilège shipyards, where he implemented the sales networks.
In 2018, he founded Multicats International in order to express his passion for multihulls and develop his own organisation. 
In early 2023, Cyrille tragically passed away leaving Alexandre and Rosanne at the head of Multicats International.
Multicats International is behind the creation of the Multihull Network, which consists of a group of professionals all known for their reputation of integrity, professionalism, and who have collaborated over the years.
Working as a network enables us to cover a wide range of territories and products as well as meeting customer's expectations, as projects may vary with nationalities, cultures and areas of navigation. A common database (with respect to the laws on data protection) increases the potential of the network to offer a wide range of boats to a larger number of buyers. Regulated by a chart, each member brings to the group his/her market and product expertise.
Multihull Network is strong enough to perform any type of pleasure craft transaction, in any region of the world, to any type of customer, and place the satisfaction of all our customers in the first place and at all times.
The core of the network covers France, United-Kingdom, Germany, The Netherlands, Spain. The network has also partnerships with professionals in Australia, New-Zealand, South America, Turkey, Israel, USA.
Multicats International and the Multihull Network also collaborate with partners around the globe, enabling us to cover the rest of Europe, South America, Australia/New Zealand, West Indies, USA, Israel, and Turkey.