VENDU
Ce SAIGA 46′ est issu de la table à dessin de Jacques Fioleau. Cet architecte français de talent est moins connu que la plupart des tenors des productions industrielles actuelles, mais c'est pourtant un défricheur visionnaire des années 1985-2000.
L'inoubliable petit Diabolo 28, le fantastique Etincelle 60′, Les Contraste 44 et autre Saïga sont tous des témoignages du talent de l'architecte.
Belle silhouette, poids contenu, chassis raide et solide en époxy, dériveur intégral, telles sont les caractéristiques principales de ce superbe multicoques de voyage rapide. Mât rotatif carbone Black Flag récent (2013), moteurs Lombardini 4 cylindres 40cv en parfait état (700h), GV hydranet en très bon état, Génois enrouleur bon état d'usage + deux spis.
Un winch Lewmar 44 électrique récent complète le plan de pont pour la manoeuvre en solitaire. Electronique est compléte et fonctionnelle (vérifiée sur place).
Ce multicoque est séduisant et rassurant, il fera le bonheur d'un propriétaire avisé qui saura procéder à une révision générale du bateau. Le gréement latéral comme la martingale de poutre avant seront à changer (plus de 8 ans), une peinture de pont et de coques est à prévoir (sans urgence). Catamaran coup de coeur, à choisir pour ses performances, sa sécurité en grande croisière et sa silhouette flatteuse. Le volume intérieur est inférieur aux unités contemporaines, les performances sont très supérieures!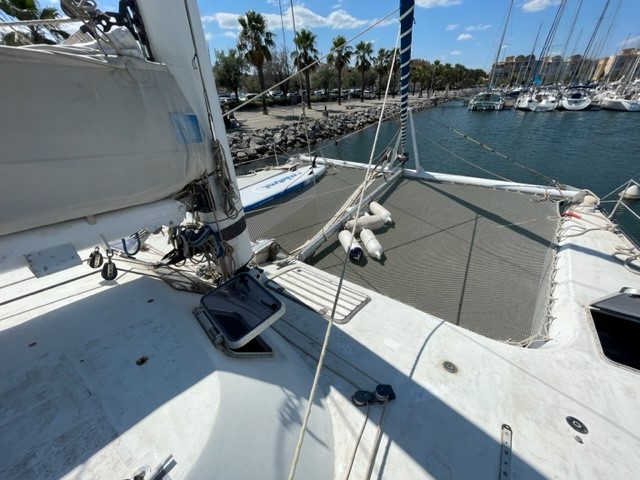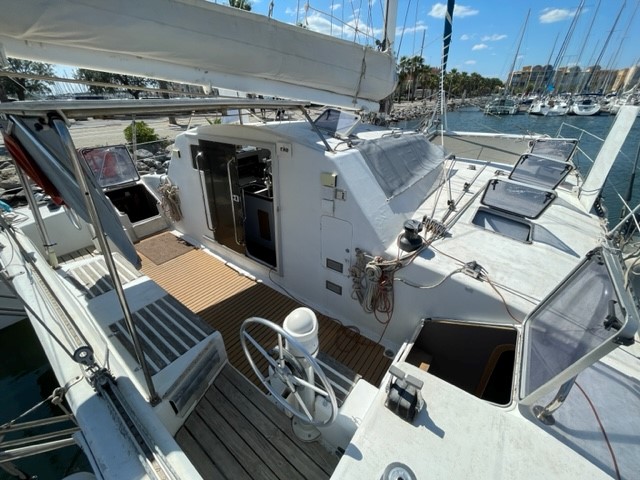 Modèle
Longueur 13.87 (m)
Largeur 7.53 (m)
Tirant d'eau min 0.90 (m)
Tirant d'eau max 2.4 (m)
Cabines 4 Cabines
Année 1988
Visible France
Prix

VENDU

TVA Payee
Moteurs
2 Lombardini 1204
Saildrive
2 Hélices bi-pales repliables
Voiles et Gréement
Mât Carbone rotatif
Grand voile lattée Hydranet
Génois sur enrouleur
2 Spis
Tourmentin
Lazy bag & Lazy jacks
Électronique
GPS traceur Geonav II Sunshine
Radar
Pilote automatique
AIS
VHF
Électricité
Batteries 4 x 100 Amp
Chargeur de batteries
Panneaux solaires
Convertisseur
Dessalinisateur
Aménagement intérieur
4 Cabines doubles
2 x 2 Lits superposés dans pointes avant
4 Douches
4 Toilettes manuelles
---
Cuisine:
Rangements
Evier 2 bacs
Réfrigérateur avec compartiment congélation
Table de cuisson
Four
Divers
Amarres
Pare battages
Annexe
Hors bord
Epirb
This inventory is given as information, is not contractual and not engaging in any way the responsibility of the broker.
Votre courtier
Multicats International
Email: [email protected]
Phone: +33 (0)4 49 01 94 21
3 Rue Calypso,
Zone Technique Du Port,
66140 Canet-En-Roussillon,
France